About Daily Deal Builder, a product of HC Consulting Group
HC Consulting Group – Founded in early 2008 by brothers Marc and Tyler Horne, HC Consulting Group has worked tirelessly to provide industry standard software platforms to small businesses and entrepreneurs at affordable prices. HC has positioned itself as a company that smashes through the barriers to entry for any business building, or starting, their online presence. We also do custom development work and build smart phone apps for clients.
As a family oriented company, HC Consulting Group is guided by principles of working hard, treating clients like they're part of the family, being innovative and creative, developing good relationships with friends and family, traveling, and helping others.  Daily Deal Builder was created because we saw the huge demand for daily deals and coupons and jumped in the deal space early in 2008.
Meet the founders of Daily Deal Builder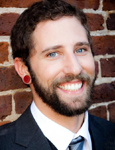 Marc Horne graduated from Kennesaw State University, plays in a rock and roll band called The Red Clay Rumble, and enjoys rock climbing, hiking, and adrenalin rushes.  He is an active blogger on Daily Deal Media.