About Daily Deal Builder Enterprise Software
Daily Deal Builder was founded in early 2008 by brothers Marc and Tyler Horne.  We are guided by principles of working hard, treating clients like they're part of the family, being innovative and creative, developing good relationships with clients, friends and family, traveling, and helping others.  Daily Deal Builder was created because we saw the huge demand for daily deals and coupons and jumped in the deal space early in 2008.
Meet the founders of Daily Deal Builder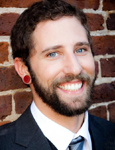 Marc Horne graduated from Kennesaw State University, plays in a rock and roll band called The Red Clay Rumble, and enjoys rock climbing, hiking, and adrenalin rushes.  He is an active blogger on Daily Deal Media.